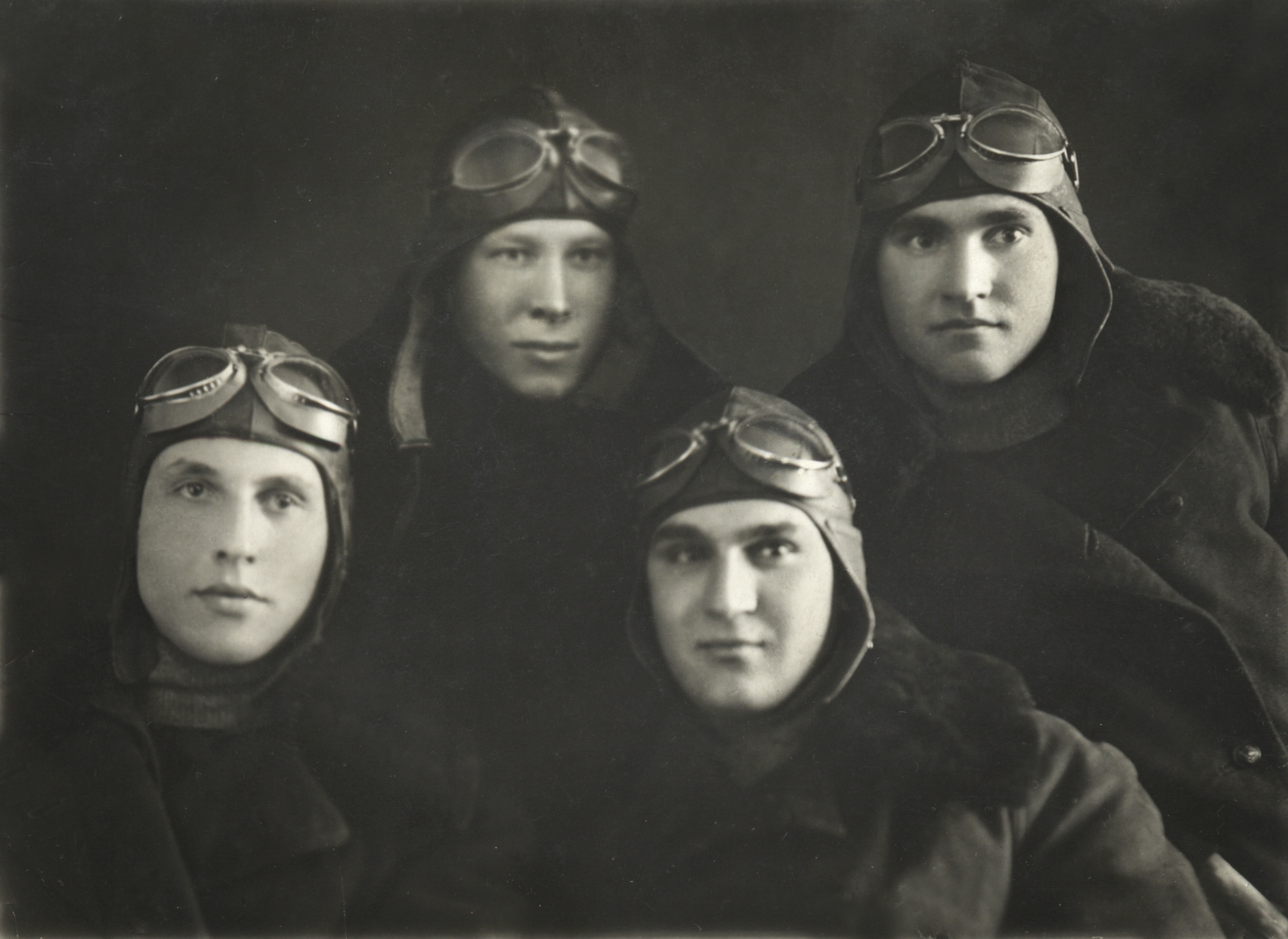 Sevastopol. Kachin military pilots school. Victor, Andrey, Timoshka, Pavlik (P. Kalyuzhny). March 30, 1938
The manuscript "War" was written in 1979 and covers events of 1941–1943. Its parts "The most characteristic air fights over Kursk" and "Some cases close to disaster" were written by the author later during the Soviet period. Together they formed a basis for a final part of this book about the spring — summer period of 1943 and 1944.
The text of the manuscript underwent minimal corrections. Besides technical editing it generally concerned dates and place names. Unfortunately, in certain cases it was impossible to find out full names of the participants of described events. If there is an opportunity to eliminate this shortcoming with the help of the book's readers, it could be accomplished via World Wide Web.
This work isn't a fiction book and though it can be qualified as memoirs, it rather represents one of the documents of the past epoch about the generation which is already gone. Publisher believes that justice of such judgment is supported partly by the photos included in the edition and also by the contents of appendices to it. These documents comprise parts of copies of the author's flight books dating from December 1937 to July 1963. Thе flight books fortunately had been kept.
The publisher expresses profound gratitude to E.V. Klementyeva and V.N. Bogdanov for their invaluable help in design of this edition and also hopes that the book would be useful not only for those who are interested in the contemporary history, but also for the readers already connected with or going to join the Russian Air Force.
The book's title "The Left-Side Mustache Legend" ("Pages of the History of the WW2 Air Battles") wasn't agreed upon with its author. During one of the conversations about the Kursk arch battle the author noticed that this popular belief — a tradition to carry the leftside mustache unshaven — emerged among the 146 guards regiment pilots spontaneously and is attributed to the belief that if you are not finished shaving, you will return alive after the fight and then you're done shaving.
V.P. Kalyuzhny